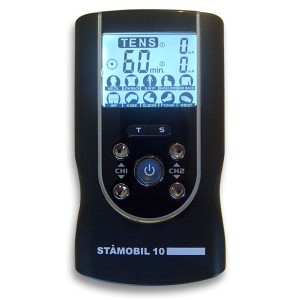 The Stamobil™ 10 digital TENS device is the latest addition to the Stamobil™ premium digital device family. This device has 10 pre-set selections by body part making it the easiest and most effective TENS device available on the market today. With the press of 2 buttons, the device is ready to operate effectively based on the area of the body being treated.
Wave Form: Mono-phase square pulse wave
Pulse Rate: From 50 to 150 Hz
Pulse Width: From 100 to 260us microseconds
Caution: This is a Class II Medical device and Federal law Restricts this device to sale by or on the order of a licensed health care professional.
Stamobil 10 Quick Start Instructions (Word)
Stamobil 10 Script Form (Word)
NO REFUNDS FOR ELECTRICAL STIMULATION. DEVICES CAN NOT BE RESOLD AS NEW PER FDA.