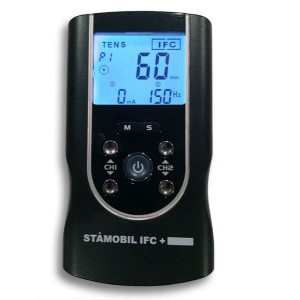 The Stamobil™ IFC+ combines Tens and Interferential to give you the best chance of treating patients that may need something stronger than a Tens unit. The IF Combo has 4 modes of Tens and 4 modes of Interferential. The Stamobil IFC+ is 105mA strong and comes standard with an AC Adapter.
Wave Form: TENS – Monophasic Square, Interferential – Biphasic Square
Pulse Rate: TENS – 1-150 Hz, Interferential – 4kHz
Pulse Width: Tens – 50-300us, Interferential – 125us,                                phase duration: 250us
Output Voltage: TENS – Constant Current, Interferential – Constant Current
Current: TENS – 0-105mA, Interferential – 0-105mA
Modes: TENS – 4, Interferential – 4
Timer: TENS – 1-60 Constant, Interferential – 1-60 Constant, Interferential Freq: 1-150 beats
Caution: This is a Class II Medical device and Federal law Restricts this device to sale by or on the order of a licensed health care professional.
Stamobil IFC + Quick Start Instructions (Word)
Stamobil IFC + Script Form (WordP)

NO REFUNDS FOR ELECTRICAL STIMULATION. DEVICES CAN NOT BE RESOLD AS NEW PER FDA.